If you've ever had your tarot cards read, you've most likely encountered the Rider-Waite tarot deck. Originally published in 1910 by the Rider Company (a division of Penguin/Random House publishers), the Rider-Waite deck was devised by popular British mystic and poet, Arthur Edward Waite. A.E. Waite's passion for divination and occult drove him to create a deck suited to the English-speaking, Western world. Waite wanted a deck with less Christian imagery and symbolism, choosing artist Pamela Colman Smith to illustrate the cards as he saw fit.
---
Departures from Earlier Decks
As stated, A.E. Waite wanted his tarot cards to espouse a different symbolism than most previously published decks. Before Waite's deck, the "Hierophant" card was known as the "Pope" card, and the "High Priestess" was the "Papess." Waite instructed Colman to depict fuller, more detailed scenes on the cards than his predecessors as well—with imagery and symbolism heavily influenced by the works of author and magician, Eliphas Levi.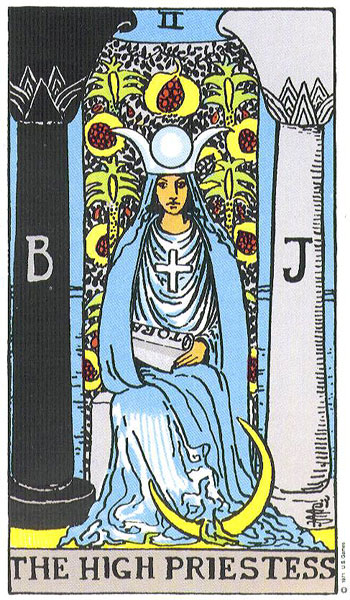 ---
Publication
Along with his deck, A.E. Waite wrote the guide: The Key to the Tarot, to accompany his deck to explain the cards' symbolism, and familiarize users with the many ways in which Tarot can be interpreted. Later, Waite published a revised and specialized Pictorial Key to the Tarot that focused even more so on the imagery of his popular deck. Years later, a more detailed, visually sophisticated version of the Rider-Waite deck was published as the "Universal Waite Deck."
---
Use in Popular Culture
With the appealing artistry of the Rider-Waite deck and the universal significances these cards held, it was no wonder the deck soon made appearances in popular culture. Led Zeppelin guitarist and occult-fanatic Jimmy Page made sure to include imagery from the Rider-Waite deck in the record album sleeves for The Song Remains The Same and Led Zeppelin IV. While the radical hippie musical Hair used the imagery from the "Lovers" card as its theater poster.